Summer Kicks off On Monday, June 20!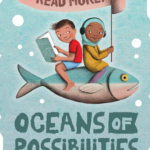 The Pawling Library's Oceans of Possibilities Summer Reading Challenge begins on Monday, June 20th! Register online and count the time you spend reading all summer! Earn badges, free books and other prizes like baseball tickets! Help us reach our community goal of 20,000 minutes and we'll have an ice cream party to celebrate! Plus, the Library will earn a Nintendo Switch to use during Library programs! Open to kids of all ages, teens, and adults! Register here to track online or pick up a paper log from our front desk.
June 20th is also the day to sign up for all our summer programs! Please visit our online calendar, Teen Programs and Events page, or our Children's Program page for all the details and to register.
Join us on 6/20 at 3:30 pm for a special Oceans of Possibilities Magic Show with Jim Vargias for kids from kindergarten thru 8th grade. This program is in partnership with Pawling Recreation and will be held at the Lakeside Park auditorium. Register here.