Spring Programs for Tweens & Teens
For grades 5 & up. All programs require registration. Registration is now open. For questions or for help registering, please contact Maureen McGrath, Young Adult Program Coordinator, at teen@pawlinglibrary.
4/14 & 4/21, 4 PM

If you haven't heard of Hieronymus Hedgehog, he's the Pawling Library's officially unofficial mascot. You can see him, often wearing a beret, at the circulation desk. And his image, along with Lola the owl, our library's true mascot, are posted throughout the library.
In April, for Earth Day, we'll be sculpting Hieronymus Hedgehog at a two-part workshop. Your sculptures will go on display at our library, celebrating not only Hieronymus Hedgehog but all the many little and large creatures that make our amazing earth so amazing. For ages 10 & up and their caregivers.
4/19/23, 5 PM

The Pawling Library's VolunTeens Club will lead a Village Clean-up in recognition of Earth Day. All are welcome to join this group of pre-teen & teen volunteers for this project. The Library will supply the tools and gloves including "grabbers" that have been generously donated by one of the VolunTeens families. The goal is to pick up litter from the Village streets. Children under 10 years must be accompanied by an adult. Registration is requested.
4/22/23, 1:00 PM
Learn to be a babysitter parents can trust! Kathleen Tucker will lead this 3-hour in-person workshop where you will learn the basics of caring for a baby or young child. You'll understand how to speak with parents when meeting with them, how to diaper a baby, and the best ways of entertaining and caring for young children. Upon completion of the workshop, participants will receive a certificate. Please bring paper and pen for notes and a small snack. A short break will be given during the program. For ages 10 and up. Registration required.
5/12/2023, 5:30 PM
Ms. Cornelia Crimson has stolen something from you that you hold very dear to your heart. She would love to return your item, but she requests that you journey to her castle on Dismal Lane to earn the right to have your special item returned.
Don't fret – you are not the only one. On this night of mystery, she will plant a spy among the invited guests and pose a series of unremitting challenges for you to conquer in order to receive clues about the spy's identity. The one who correctly guesses the spy will leave the castle as the heir of the Crimson estate – as well as have their item returned.
Ms. Crimson has invited you to attend this exclusive event. Will you take the challenge? If no, maybe you'll change your mind once you figure out what is missing.
This event is for grades 5 & up. Registration is required. Once you are registered, you will receive information about your character.
Nerf Night at the Libray,
Friday, June 2 @ 5:00 pm
Join us for this epic Nerf battle between the stacks of the Pawling Library. We'll gather after hours in the main building for an evening of battle fun! Who knows what surprises might be lurking between the shelves! Bring your own Nerf blasters or borrow one of the Library's (supplies are limited). This program is for grades 5 & up.
All Together Now! Summer Reading Kickoff with Magic Jim, Thursday, June 22 @ 5:30 pm at Lakeside Park in the Teen Center

Join us as Magician Jim Vagias wows families with his tricks, humor, and puppeteering. This interactive program gets kids involved in the fun and will be a great way to kick off the start of summer! Paid for in part by Dutchess County as part of our Literacy Heroes program series. The Library is happy to partner with Pawling Recreation for this event for kindergarten through 8th grade. Registration is not required but suggested.

4/12, 5/10, 6/14,  4 PM
For those who love to craft, do art, and make things. We'll explore a variety of mediums and themes during this monthly program.
4/14 @ 5 PM, 5/19 & 6/16,  @ 4 pm
This role-playing adventure will be led by Dungeon Master Ted Bushman and is open to tweens. & teens. Bushman's games are about wonder, imagination, and character. He loves empowering players to role play and tell the stories that excite them. Please note: April 14th will be at a special time and location: 5 pm - 7 pm in the main Library building.

4/20, 5/18, and 6/15, 2:30 pm
This program welcomes middle-school-age homeschoolers to get together and socialize while we play games, do art activities, and complete learning challenges.This season's theme is Robotics. Families are welcome to come early to socialize with each other.
4/27, 5/25, 6/19, 1 pm

This monthly program is for families who homeschool to give their elementary- and middle-school-aged students an opportunity to practice public speaking. Led by Katrina Bronnimann, each meeting will have a theme from which attendees can choice their speaking topic. The themes for the spring session: April 27th: Earth Day; May 25th: Animals;June 19th: Geography/Travel Please note this session takes place on Monday. Registration is required. 
These weekly programs begin on Tuesday, April 18th. Registration is required.
Tuesdays 4/18 thru 6/6 at 5:15 pm
Through a generous donation from MagiKids.org, we are offering this series to learn and play Magic: The Gathering card game. All experience levels are welcome. New players will build their decks and learn to play. To be held in the Library Annex. Registration is required.

Jueves, 20 de abril-11 de mayo/Thursdays, April 20-May 11, 6 pm – 7 pm
La Biblioteca Pawling se ha asociado con Camino al Éxito para brindar un espacio acogedor para los adolescentes de 8.º grado en adelante. Esta serie de mentores de 4 semanas ayudará a aquellos que son nuevos en la comunidad ofreciéndoles orientación e inspiración. La semana uno le dará al grupo la oportunidad de conocerse unos a otros. Durante la semana dos, los participantes crearán tableros de visión. Las semanas tres y cuatro contarán con oradores invitados. Los participantes que asistan a cada reunión participarán en un sorteo. Es necesario registrarse.
The Pawling Library is partnering with Camino al Éxito to provide a welcoming space for teens in grade 8 & up. This 4-week mentoring series will help those who are new to the community by offering guidance and inspiration. Week One will give the group an opportunity to get to know one another. During Week Two, participants will create vision boards. Weeks Three & Four will feature guest speakers. Participants who attend each meeting will be entered into a raffle. Registration is required.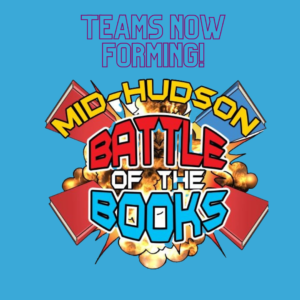 High School Information Meeting
Thursday, April 13, 4:30 PM - 5:15 PM

The Pawling Library is excited to be partnering with the Beekman and Patterson Libraries to offer a Battle of the Books team for high school students currently in grades 8 through 12.
This meeting is to meet the team members and coaches and to learn the details about the program including meeting schedule, the book titles and to answer any questions you may have.
This meeting to be held at the Patterson Library.



Volunteens is a year-round volunteer opportunity for ages 11 & up. The group meets twice a month to plan or work on service projects to benefit the Library and the Pawling community. Since the group started last fall, they have had a litter collection in the Village, learned about and helped to remove invasive plant species at Lake Side Park, wrapped all the books given as gifts during our annual visit with Santa & Mrs. Claus as well as helped at the party, assisted at a local ESL class, and created a Giving Tree to benefit the Dutchess SPCA. The group will have new projects in the new year and new members are welcome.

Meeting dates: The first and third Wednesday of each month at 5 pm to 6:30 pm. There may be additional dates depending on the project.

The Pawling Library is now a Volunteer Certification Organization through the Points of Light Organization. Volunteers who meet the required annual hours for their age group will be recognized with a letter from the President of the United States and possibly other awards. For more information about the Presidential Volunteer Award, please visit our volunteer page: https://www.pawlingfreelibrary.org/community-service/