HAUNTINGS OF THE HUDSON RIVER VALLEY: An Investigative Journey / Online Program
with Vincent T. Dacquino
Wednesday, October 20
7-8 pm
Click the link below to register for HAUNTINGS OF THE HUDSON RIVER VALLE or contact Donald, our Adult Program Coordinator, at adult@pawlinglibrary.org.
https://www.pawlingfreelibrary.org/event/hauntings-of-the-hudson-river-valley-an-investigative-journey/2021-10-20/
Do spirits still stalk the Hudson River Valley? In Hauntings of the Hudson River Valley, Vin Dacquino works determinedly to discover the true story behind three enigmatic folk legends: Sybil Ludington, Chief Daniel Nimham and George Denny. Each was the central figure in a dramatic series of events; each became enshrined in local lore for their actions; each has had his/her story obscured; and each may have left behind a spiritual residue. Follow Dacquino as he interviews local experts, explores areas where hauntings may have occurred such as Carmel's legendary Smalley's Inn and digs deep into historical archives to open new windows into the lives and possible afterlives of these three mysterious characters. The truth is out there, hidden in remote, tucked-away corners of the valley…are you ready to uncover it?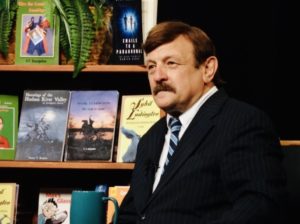 About our presenter: Vincent T. Dacquino is the author of several books for children and adults. He has made numerous appearances at schools and historical sites based on his adult biography Sybil Ludington: The Call to Arms and Hauntings of the Hudson River Valley: An Investigative Journey. Dacquino has addressed teachers and historians at annual conferences at the local, county, state and national level. He has presented at the BOCES Young Adult conferences for over thirty years and has conducted a writers' workshop for the Mahopac Library for over twenty years. Dacquino was a teacher in Westchester County and retired in 2007 to dedicate more time to his writing and family. He resides with his wife, June, in Mahopac, New York. http://vtdacquino.com
Pumpkin photo by Szabó János.