Thank you to all who have participated in our American Creed-inspired presentations!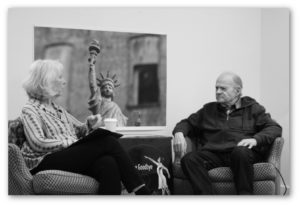 If you have not yet filled out a questionnaire from any of our three programs, please kindly answer one or all of the questions listed below, and / or make any additional comments. A brief comment is all that is needed, but we do welcome lengthier answers. Your responses are very helpful to us in gathering information that will be presented to the American Library Association grant committee. Please email your answers to Donald at adult@pawlinglibrary.org.
The  photograph was taken of Lonna Kelly interviewing Ron Steinman during her program Hudson Valley Art Speak. Mr. Steinman was our guest host in June for a special film screening and discussion of the PBS documentary American Creed. Click on the link to watch the episode. https://www.youtube.com/watch?v=fAQYlhqoEzI
Questions:
1. What do you think unites us as a nation?
2. What are your hopes and concerns for your community and/or the country?
3. How can we work together to overcome the divisions in our society?