Sound Experience for your Body, Mind and Soul / Online Presentation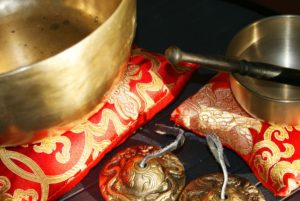 with Cristina Reyes-Schleifer
Sound Practitioner
Wednesday, July 22
7:00-8:30 pm
Registration is required. Click the link below to reserve a space for Sound Experience.
https://www.pawlingfreelibrary.org/event/sound-experience-for-your-body-mind-and-soul-4/2020-07-22/
Immerse yourself in the soothing waves of sound
Reduce muscle tension and stress
Enter a deep meditative state
Enhance your awareness
Feel lighter and energized
The sound of Tibetan singing bowls, tuning forks, chimes, bells and gongs will open up a new dimension in your life.
Note: Wearing headphones or earbuds is recommended for this presentation.