Rediscovering Native Perennials as Alternatives to Invasives / Online Program
Presented by Master Gardener Cathy Lane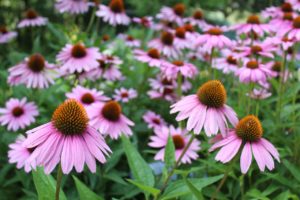 Tuesday, April 19
7-8 pm
Click the link below to register for Rediscovering Native Perennials as Alternatives to Invasives or contact Donald, our Adult Program Coordinator, at adult@pawlinglibrary.org.
https://www.pawlingfreelibrary.org/event/rediscovering-native-perennials-as-alternatives-to-invasives-online-program/2022-04-19/
The Pawling Library has incorporated native plant species into our garden landscape that not only provide beauty to the grounds but also benefit wildlife, from bees to butterflies and hummingbirds.
At this special Earth Day presentation, brought to us by Cornell Cooperative Extension Dutchess County Master Gardener Volunteers, you'll learn how you can design a garden using native perennials that are full of color and vigor, replacing invasives, some of which can be harmful to our environment.
Please join us in discovering the value of native perennials…and imagine the beauty they can add to your landscape!