Laptop Available for Checkout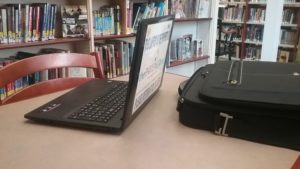 The Pawling Library now offers one laptop available for checkout within the library. This laptop can be used anywhere within the building for up to four hours.
This is a great option for someone who wants to do some uninterrupted work a little farther away from the hustle and bustle of the circulation desk and public desktop computers.
The laptop runs Windows 10 and is equipped with with Microsoft Office 2013, Microsoft Edge, Mozilla Firefox, Google Chrome, and Adobe Acrobat. It also uses the same software as the desktop computers to wipe out any information added or changed, as long as you restart the computer at the end of your session.
For more information or to see the laptop checkout agreement, please ask at the circulation desk.