Interior Design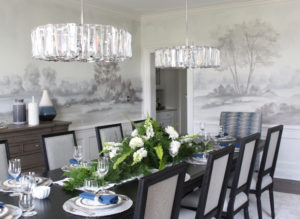 Tuesday, July 9
7:00-8:00 pm
At this creative and fun presentation designer Allison Miller of Allison Grace Design will introduce you to the interior design process as well as current trends and how to avoid common pitfalls. She'll instruct you how to approach a construction or decorating project, including planning, budget, resources and finding a contractor. You'll learn about areas of design such as space planning, kitchen and bath design, lighting, paint color selection, window treatment options, as well as wall decor, furniture and fabric selections.
Following the presentation will be a Q & A.
Lots of samples will be on hand for you to view and be inspired.
Please join us.
Find your style to create the home of your dreams!
About our presenter: Allison Miller has been working in the interior design industry for 20 years. After graduating from the University of Vermont with a degree in Art and Art History, her love of textiles drew her to interior design. She flourished as a window treatment and soft-goods designer and then went on to establish East Hill Design, a handbag company that utilized the unique fabrics she used in interior design. Allison then moved to California to further her design career and obtain a degree in Interior Design. While in California she worked as a designer and project manager for firms doing high-profile jobs such as the San Jose Institute of Contemporary Art, Nordic Natural's new headquarters, and private residences throughout Silicon Valley, Monterey, and the San Lucia Preserve in Carmel. Allison also became immersed in the green industry, managing the construction of the LEED certified Gaia Hotel & Spa and working as a designer for the first sustainable furnishings showroom in Northern California. Now located in the Hudson Valley of New York, Allison looks forward to sharing her experience and creativity with you.
Registration is required. Call the Pawling Library at 845-855-3444 to register or send an email to Donald at adult@pawlinglibrary.org.