PFL News Volume 1 July 16, 2014
Learning how to sew a Skirt
By: Sarah
On every Thursday between 4 and 5 p.m. kids come to the Pawling Library to learn how sew and to make things. This year everyone is making skirts. First everyone picked their favorite fabric for their skirt. Then they cut out the shape of the skirt and sewed a waistband on each skirt. In the next class they will make a shirt to match their skirt. Lili loves making her skirt. Madeline really likes to go to this class. Lexi thought it was cool.
Potter Fantastic at the Library
By: Joslyn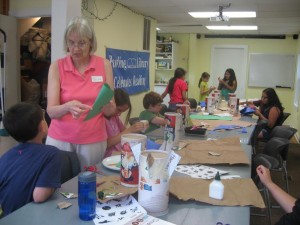 Kids go to the Pawling Library on Friday afternoons to talk about Harry Potter. Last week they read the first four chapters of "Harry Potter and the Prisoner of Azkaban." They talked about the book. Then they went to the yellow house to make a dessert. Everyone had fun.   Fun with the Fun Team By: Eliza   A group of children within the grades of third to fifth grade have fun with the P.F.L. (Pawling Free Library) Fun Team building rockets. On Wednesdays the children prepare for the upcoming carnival. For the rockets, they used empty oatmeal cartons. For the wings, they used cereal boxes cut into funky shapes. After these steps were done, they coated the whole thing in paper Mache. Some children didn't finish. Could there be a program better than this? Probably not. Most kids love the P.F.L. Fun Team and eagerly await the next meeting.
Cool Mystery Club Cases
By: Madeline
Every Wednesday students gather at the Pawling Library to solve cases. Last time they started by putting their fingerprints on a balloon. Then they blew up the balloon to see what their fingerprints looked like. After they looked at plates that had teeth marks on them. Last week they bit into the plates and wrote their names on the back. They had bit into two plates and the teacher had scribbled out one set of names. The kids got to guess which set of teeth marks matched the other. Sara likes the mystery club!   Kids tackle
Lego Building Challenges at the Library
By: Joshua
Kids come to the Pawling Library to put their minds to work in the Lego programs so they can come up with great ideas. They try to make things that will not crash, fall apart, flip or slip off of the table. First the kids listen to directions and they build things out of Legos. They also build up their minds and imaginations!   Learning to Sew By: Lili   Kids who love to sew come to the Pawling Library every Thursday afternoon. Here they can learn to sew purses, dresses and more! They learn how to sew other things too. Sometimes they use sewing machines. Sarah and Lexi liked it a lot. This week they will work on their skirts again. The End!
Tree House Magic
By: Sara
In the Magic Tree House Book Club the kids read a Magic Tree House book to answer questions back at the library. After that they go to the house next door and do a craft. For the book "Viking Ships at Sunrise," they made Viking jewelry. They made them out of soft tin foil, markers and string. In these books the main characters are Jack and Annie. In their tree house, they open a book and make a wish. They go to ancient Pompeii and the Revolutionary War! "I like these books because they are full of mystery," said Lexi and Sarah.
Potter Crazy at the Library
By: Isabella
Harry Potter fans go to the library every Friday afternoon. They talk about the book and they ask questions. After that they go to the yellow house and used the cookbook to make something. They made strawberry trifle. Everyone had fun cooking.
Crime Fighters meet at the Library
By: Jonathan
Students come to the library on Wednesday afternoons to solve mysteries. Last week they learned about fingerprints. First they put their finger in ink. Next they put their finger on a balloon. They then blew up the balloon to make their fingerprints bigger. Then they examined it to see if their fingerprints were a whorl, arch or loop. Next week they will learn how to dust for fingerprints.
The Crazy Book Buddies
By: Isabella
This year Book Buddies is on Tuesday afternoons. Here kids go and get help with reading at the Pawling Free Library. The kids ride up and find their buddy. Some pick books out. They sit and read. They practice fluency with their buddy. They leave and say "thank you" and "good-bye."
Junior Investigators take over Library
By: Ava Mae
The Kindergarten group started in the library with Ms. Susan for book chats. She reads as you talk about the story. First graders start outside playing games and having a snack. They seem to have fun. This week the theme was water. They found toys and put them in a bucket. They put them in water to see if they floated or sank. Second graders started in the yellow house. They made boats. They saw how many marbles they would hold before they sank. They put them in water. Brian used a cup. The two-hour class is very fun.
Kids become Scientists!
By: Alexandra
Kids from grades 3-5 gather at the Pawling Free Library to play games, read books and make crafts. This week they learned about water. They played "fish, fish, cross the sea." Sarah liked it. For crafts they made boats all by themselves using only tin foil, tape, plates and popsicle sticks. Lili thought it was "cool." Everyone said they could not wait for next week.
A Window into Life
By: Lauren
For two Mondays kids would meet at the library for a photo class. The photo class was an hour long and was for grades 4-7. At the beginning of class the students would show pictures they took over the week using the different modes on the camera. The instructor would look at everyone's pictures to compliment him or her on their photos and to tell them how to improve them. The class was supposed to go on a photo walk, but due to the weather, they had to be creative and take pictures of the garden and a still life. Near the end of class they would go outside to take pictures of different parts of nature. Depending on the weather, the class would take pictures of different things. For example, they took pictures of flowers with raindrops on them. Sadly the class on July 14th was the last class.