PFL Heroes are Helping Others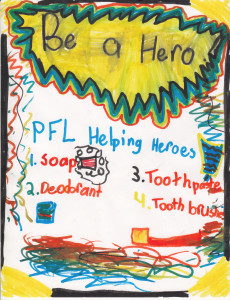 Libraries across NY State are promoting this summer's reading theme Every Hero Has a Story….but there are many ways to be a hero and each library has it own take on the theme. Here at the Pawling Library we're working hard to help children start their own hero story!  Among our many heroic programs is a community service program where we recruited a few great heroes to help us perform some very kind deeds.  Our PFL Heroes in Training (grades K – 2) and our PFL Heroes Clubs (grades 3 – 5) are working hard to make a difference in our own community.  We partnered with the Pawling Resource Center and asked how we could help.  We discovered that while community members often think of donating food to the center, personal hygiene products are always in short supply!
Our PFL heroes took on the challenge of collecting these desperately needed supplies.  We have asked families in our programs to donate soap, deodorant, toothbrushes and toothpaste and place them in specially marked boxes in the library.
Ms. Karen and a few of her heroes stopped by the Pawling Resource Center on Wednesday,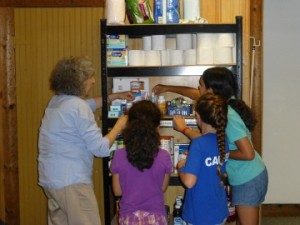 July 29th to drop off some of the supplies we have already collected.  Our heroes Joslyn, Madison and Sara stocked the shelves with the supplies we collected and were treated to a tour of the Resource Center by Program Coordinator, Terry Ariano.  Mrs. Ariano said, ""The good will and hard work of the PFL Heroes and the generosity of the people who donated to their drive is a large part of what makes the Pawling Resource Center work!  The spirit behind these drives and individual donations is as important as the support we get from grants and corporate sponsors. It's what keeps us able to offer and distribute a variety of much needed items to families who use our food bank."
Our donations made a difference, but we'd like to do more and we'd love the community to help as well.   If you'd like to join us, please bring any of the items on our list and place them in our collection boxes in the library.  We'll be collecting these supplies all summer long, so please consider making a donation.  All items donated will be brought to the Pawling Resource Center and distributed to those in need.  In the words of one of our heroes, "you don't have to wear a cape and a mask to be a hero, just lend a hand whenever you can!"