Welcome! Are you looking for…
Summer Programs                      Anytime Programs
The Pawling Library has moved online! Our online collection is available for all of your media related needs, and we are now offering live and at-your-own-pace online programming as frequently as we are able.
---
Programs Lottery Registration is now CLOSED
Our kids programs will be in session this summer! Both virtual and anytime at-home programs, including free activities with supplies we'll distribute to you, will be available. Ms. Neena, Ms. Carla, and Ms. Tara are returning in full swing, ready to provide options for all kinds of families, regardless of your internet capabilities. Here's the details:
Registration now closed.
Summer Programs Run: July 6 – August 15
Have questions about a previously submitted registration?
For more details on programs, check out our Summer 2020 Programming Guide or visit our online calendar.
Imagine Your Story Summer Reading/Learning Challenge
We've reimagined our Summer Reading Trackers for the virtual world! This summer, we're putting YOU in control! Each week, we'll tell a different story, featuring our staff, where participants decide the ending. Will we dye Ms. Neena's hair purple or blue? What strange food will you pick for the staff to eat for lunch? We'll record whatever ending wins the most votes and make it reality! Log reading time or complete simple activity challenges to earn votes and help decide what should happen! Each week, one lucky participant will also receive a gift certificate to a local business, thanks to a donor.
Sign up for the Summer Reading Challenge before July 7th to vote on how we end our first story–The Case of the Mystery Lunch. What weird food will Ms. Neena, Ms. Carla, and Phil eat for lunch? YOU decide. By registering, you'll also be entered in a raffle to win a gift certificate to Village Pizza.
Fine print: Every 20 minutes read earns one vote, and every completed activity challenge earns one vote too. Time spent listening to someone else read-aloud or audiobooks also counts as time read. Stories (and votes) change weekly, so come back each week to help make new decisions. There is no limit to the number of votes per participant per week. Anyone can register to participate in the voting, but only Pawling and Holmes/Whaley Lake residents are eligible for raffles.
System Requirements for Live Programming
All live programming will be held over Zoom, so an internet connected device is required. Caregivers must be present while setting up the connection and remain in the same room as participating children under 5 years during programming. We encourage caregiver participation in all our live programs, as our staff is not able to monitor children's internet activity while live. Registration is required and connection details will be provided privately after registration to help maintain class security.
New to Zoom? You will need to download the app to your device in advance of your first live program. Visit https://zoom.us/download to find the right connection for your device. Contact us children@pawlinglibrary.org or 845-350-2771 for assistance.
---
Any Time Programs
In addition to our live programming opportunities, we're still offering passive programs that you and your family can do at any time online. Click on the options in the table below or keep scrolling to find out more.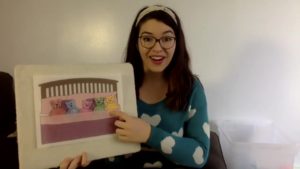 Story Time Bites: We've created some bite size story time moments featuring Ms. Neena for anyone missing story times and programs for children five and under. Each video features one song, rhyme, or story and can be watched anytime. Check them out here.
We're also hosting live preschool and toddler story times via Zoom in May. Find out more here. 
We also suggest…
Any Time Program Tutorials and Kits
Looking for easy activities to do with your child while stuck at home? We've created online tutorials for simple to set up, educational activities you can do from home. Plus, we use supplies you may already have or can get with ease. Live in or near Pawling? You can even get kits for free with all the needed supplies! Check out our YouTube Tutorials, designed for kids and parents, for ages 18 months -10 years. There's art, STEAM, community service related activities, and programs designed to help kids with early literacy. Click here to register for kits and view our playlist below to find tutorials for your child's interests/age group.
---
For more online resources for children and families, including eBooks, audiobooks, downloadable movies, educational games, and more, check out:
__________________________________________________________________________________________________________________
Talk to us! 
Children's programming and learning opportunities are an essential part of our library mission, and so, if you at any time are in need of recommendations for easy, affordable, at-home learning experiences for children ages 0-11, please reach out to our Children's Program Coordinator, Neena McBaer, at any time. While we are closed, you can call or text Ms. Neena at 845-350-2771 or email us children@pawlinglibrary.org.