Dogman Virtual Escape the Room
Calling all Dogman and puzzle fans! We've got a digital program for you.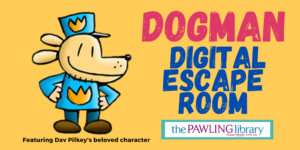 Oh no! Sneaky Petey and Grampa have trapped Dogman and Catkid! Can you help our heroes escape before too much trouble ensues? This digital escape room supports critical thinking and can be done independently or as a family at any time. Developing readers may need reading support, as some clues must be read.
Click here to play! https://docs.google.com/presentation/d/e/2PACX-1vTQ1LXbvl7847ZVROkb5NsTdbEifeliFG-ZuE5n_VcL4mVP1i23ZgSO0Lu3j_Whd-iZ7rL4mXuOJobm/pub?start=true&loop=false&delayms=60000&slide=id.g9fd62beeef_1_15