TWO LIVES IN ART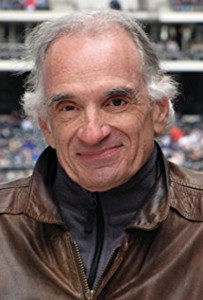 (Writing, Plays, Films and Novel), Acting and Directing International Theatre, Film/TV- novelist playwright Sarah Levine Simon (recently deceased) and actor/director Roger Hendricks Simon.
Tuesday, July 24
7:00-8:00 pm
Mr. Simon will discuss Ms. Levine Simon's recent novel WINGED VICTORY and their theatre and film work in NYC, L.A., London and internationally.
About our presenter: Roger Hendricks Simon played Bernie Jacobs in Oliver Stone's WALL STREET, MONEY NEVER SLEEPS (Blue Ray DVD) opposite Michael Douglas and Josh Brolin, he previously received critical acclaim for playing the lead role in Best Feature and Audience Favorite award winner THE SUBLET. A graduate of Yale School of Drama and founding member of Robert Brustein's Yale Rep Co. in '67, he was elected to Notable Names in American Theatre for directing, acting and producing for Yale Rep, Joe Papp's N.Y. Shakespeare Festival, London's Royal Court Theatre, Dublin's Abbey Theatre, Williamstown Theatre Festival, Lincoln Center, BAM, Edinburgh and Nancy (France) Festivals, O'Neill and Aspen (Co.) Playwrights Conferences, Juiliard Opera and Theatre Depts., LaMama and Roundabout Theatres.
Directed John Travolta, John Lithgow, James Earl Jones, James Woods, Samuel L. Jackson, Bibi Anderson, Tovah Feldshuh and Christine Baranski in NY and London premiers by Tennessee Williams, John Guare, Sam Shepard, David Hare, Michael Weller, Terrence McNally, Lanford Wilson and William Saroyan among others.
Artistic Director of THE SIMON STUDIO in NYC since 1978, – an award winning theatre/film training, development and production center combining professional actors, playwrights/screenwriters and directors.
Sarah Levine Simon enjoyed a dual career as a musician (opera singer) and writer. She appeared as a soloist throughout the United States and Europe, singing difficult soprano repertory such as Bach Cantata No. 51, Lukas Foss's Time Cycle, and the lyric soprano operatic repertory. Writing began for the soprano as a way to access the literary texts she sang, and it led to her creating her own narratives. Writing credits include: Bernardo's Farewell and Mouse Music, stories for actors and orchestra, produced with a grant from The National Endowment for the Arts, narrated by actress Tovah Feldshuh, among others. She wrote two plays on commission for Plays for Living. The Portrait written as a radio play for National Public Radio in 1983 finally received a production by the Ad Lib theater company at Theater 54 in New York City to critical acclaim in 2014. She wrote, produced and sang as the "gourmet diva" in five musical videos to introduce classical music and have a little fun with it as well. In February of 2017, The Dressmaker's Secret, a play co-written by Mihai Grunfeld received a critically acclaimed and sold out Off Broadway production at 59E59 Theatres in New York City. With Winged Victory and Locked Out, she makes her debut as a novelist.
Registration is required. To register please call the Pawling Library at 845-855-3444.