Summer 2022 Young Adult Programming
For Grades 5 & up
Questions? Need help registering? Contact us at teen@pawlinglibrary.org or give us a call at 845-855-3444.
| | | |
| --- | --- | --- |
| | All programs require registration unless otherwise noted. Find the registration links on our calendar or by clicking on the event links below. | |

Summer Reading Program for Teens & Tweens For Ages 10 – 17 years
There's an ocean of possibilities in the library this summer. Will you join in the fun, spending time logging your reading to help Team Teens achieve victory and earn our community summer reading prize?
The Oceans of Possibilities Summer Reading Challenge will launch June 20th. Participating in the summer reading challenge helps students of all ages fend off the summer slide–the academic back-tracking kids often experience due to summer vacation. You can join us and log the time you spend reading our website When you register, you will receive a lanyard to hold reward badges and a free book. You can create a virtual avatar on the site. You will earn a point for every minute you read and as you pass levels, you will earn badges–some exclusive to the Pawling Library–free books, baseball tickets, a Kindle Fire and more! You can earn extra points by attending programs, writing book reviews, or playing mini games on the online program. You complete the program with 1,200 minutes. Then it's the battle for the crown: Kids vs. Teens vs. Adults. Will you lead the teens to victory? Or will the kids be crown reading rulers of the library yet again?  If together, we achieve our community goal of 20,000 minutes read, we'll earn our community prizes. This year, we'll receive a Nintendo Switch to use during library programs and an Ice Cream Celebration party! Create your online Oceans of Possibilities account today and start logging on June 20th!
---
WEEKLY PROGRAMS
GAMING UNPLUGGED
Mondays, 3 pm – 5 pm, July 11 – August 15



Drop in to play a variety of board games like Catan, Splendor, Five-Minute Dungeon and more. To be held in the Library Annex. For rising 5th graders and up. No meeting August 1st.  Registration is not required but recommended. https://www.eventbrite.com/e/gaming-unplugged-tickets-349839719017
TECH TUESDAYS
Tuesdays, 3 pm – 4:30 pm July 12 – August 16
Join us each week to explore a different "tech" experience. Week 1:Build an A.I. Vision Kit Week 2: Explore Paper Circuits; Week 3:Learn 3-D Printing; Week 4: Explore with Ozobots; Week 5: Explore Squishy Circuits; Week 6: Discover Lego Building. To be held in the Library Annex for rising 5th graders and up. Registration is required. Register for one or all the weeks. https://www.eventbrite.com/e/tech-tuesdays-tickets-350600374157
CRAFTERNOON WEDNESDAYS
Wednesdays, 4 pm – 5:30 pm July 13 – August 17
For those who love to craft, do art, and make things. We'll explore a variety of mediums and ocean themes during this weekly program. To be held in the Library Annex for rising 5th graders and up. Details for each week are listed on the calendar. Registration is required. Register for all weeks or pick and choose. https://www.eventbrite.com/e/crafternoon-wednesdays-tickets-358823038367
FREESTYLE FRIDAYS

Dates and times will vary.

This is our anything-can-happen day for tweens and teens. We may have special guests or play an escape game or a trivia night, learn a new talent such as cartooning, or rediscover a favorite activity like an outdoor movie. Individual registration is required for each event.
PAINT & ICE CREAM SOCIAL, Friday, July 15 @ 4 pm – 5 pm
Tracey Falcone of Hudson Valley Creamery will lead this paint and ice cream workshop for rising 5th graders and up. She will show you step-by-step how to paint a design and you'll enjoy an ice cream treat as well. Registration is required. https://www.eventbrite.com/e/free-style-fridays-paint-ice-cream-social-tickets-319921994297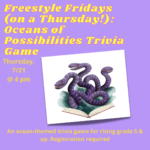 OCEANS OF POSSIBILITIES TRIVIA GAME, Thursday, July 21 @ 4 pm
Please note: This Freestyle Friday is on a Thursday! Join us for this ocean-themed trivia game for teens and tweens entering 5th grade  and up. We'll us a virtual trivia board to test participants' knowledge of the oceans and the creatures that live in them. This will be played like Jeopardy in teams. Registration required:  https://www.eventbrite.com/e/freestyle-fridays-on-a-thursday-oceans-of-   possibilities-trivia-    game-tickets-359664946537
TEEN  MOVIE NIGHT, Friday, July 22 @ 6:30 PM
The Library is happy to be partnering with Pawling Recreation for this Teen = Movie Night featuring The Princess Bride (1987, PG). Rotten Tomatoes describes the film as "A delightfully postmodern fairy tale, The Princess Bride is a deft, intelligent mix of swashbuckling, romance, and comedy that takes an age-old damsel-in-distress story and makes it fresh." It is also considered one of the greatest comedy films of all time.
For rising 5th graders and up. To be shown at The Teen Center @ Lakeside Park.  Registration is requested.https://www.eventbrite.com/e/freestyle-fridays-teen-movie-night-featuring-the-princess-bride-tickets-365876214607
BERMUDA TRIANGLE ESCAPE GAME, Friday, August 5 @ 3 pm – 4:30 pm
Join us on this flight from Washington D.C. to San Juan, Puerto Rico. The only problem is, we'll fly right through the Bermuda Triangle, the area in the North Atlantic where ships, planes, and people have gone missing. Will we arrive safely in San Juan or will we disappear into the Bermuda Triangle?! Make sure you have your best observation skills and puzzle power with you as your board the   flight–you may be our only hope! To be held in the Library Annex for rising 5th graders and up. Registration is required. https://www.eventbrite.com/e/freestyle-fridays-bermuda-triangle-escape-game-tickets-363215917587
MAD SCIENCE PRESENTS BLACK & BLUE OCEANS, Friday, August 12 @ 4 pm – 5 pm

Students will devise and test techniques to handle the aftermath of an oil spill and discuss how to clean up and prevent the pollution that plagues our oceans. To be held in the Library Annex for rising 5th graders and up. Registration is required. https://www.eventbrite.com/e/mad-science-presents-black-blue-oceans-tickets-354763466077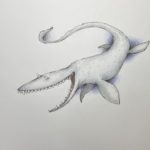 New Date: SEA GIANTS: LIFE IN PREHISTORIC SEAS, Friday, August 19 @ 3 pm – 4 pm
They're wild! They're weird! They're from your vivid imaginations! Create your own cartoon sea giants based on actual life that lived a million years ago, or make up your own at this Freestyle Fridays workshop with Pawling Library's own Donald Partelow! For rising 5th graders and up. Registration is required: https://www.eventbrite.com/e/freestyle-fridays-sea-giants-life-in-prehistoric-seas-tickets-355284374127
Get inspired before you join us and order some books on prehistoric reptiles and dinosaurs. While you're enjoying reading about  prehistoric creatures, you might like to join the Oceans of Possibilities Summer Reading Challenge.
---
SPECIAL EVENTS
THE LIBRARIES GOT TALENT!, Wednesday, June 29, 5 pm – 8 pm
The Libraries of Dutchess and Putnam Counties are joining together for an open mic talent night for kids through college-age young adults. All talents are welcome: sing, dance, play music, gymnastics, magic, etc. To be held at the Patterson Library, outdoors, weather permitting. Ages 6 through 12 years should arrive at 5 pm. Ages 13 & up should arrive at 6 pm. Registration is required. https://pattersonlibrary.evanced.info/signup/EventDetails?EventId=15026&backTo=Calendar&startDate=2022/06/01
---
VOLUNTEER OPPORTUNITIES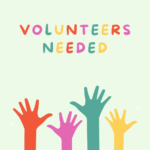 Community service opportunities are important for this age group and we will offer a few volunteer programs for different interests:
Program Partners: Our programmers rely on teens and tweens to help with Children's Programs during the summer months. Responsibilities include helping to prep for programs, assisting the littles with games and other activities, and cleaning toys and program areas after the activity is finished.
Garden Club: The teen garden has a new location in our courtyard and needs volunteers to help maintain it. We grow vegetables and herbs that our volunteers will need to water and take care of throughout the summer months. Wen the vegetables are ready to be harvested, volunteers can bring them home.
Help Young Writers: This opportunity is to help younger children write, make, and publish their own books.The theme of the stories will be anti-bullying, self-esteem, and emotions. Volunteers should be comfortable discussing these issues with the children.
Volunteers must be age 11 years and up. To apply as a volunteer, please download this form.  Completed forms must be returned to Maureen Meltzer-McGrath, YA Program Coordinator via email: teen@pawlinglibrary.org or can be dropped off during regular library hours.