What is Battle of the Books?
Battle of the Books is a national Summer Reading Program for middle- and high-school students. Participants in the Mid-Hudson Library System program are asked to read the selected titles each summer, and then participate in trivia battles based on the books. Each library team will participate in a regional battle, with the winners progressing to face one another in the finals.
The goal of the program is to promote a love of reading in children and teens, to expose them to titles and authors that they might not encounter in school, and to inspire teamwork and good sportsmanship in an atmosphere of friendly competition.
The Pawling Library 2023 Team

The Pawling Library is excited to have a middle school battle of the books once again. The team is open to students entering 5th grade through 8th grade in September. Members receive paperback copies of the six titles and are expected to read them through the spring and summer months.
The team is currently meeting on alternate Mondays at 5:15 pm: 4/17, 5/1, 5/15, 5/29 & 6/12.
For the High School program, open to students entering grades 9 -12 in September, The Pawling Library is partnering with the Beekman and Patterson Libraries to field a team. The first meeting is on Thursday, April 13th at 4:30 pm at the Patterson Library. Let us know if you are interested! Register here.
Team Info
The middle school team, The Pawling Pirates, includes: Fox Bronnimann; Bella Germosen, Cillian Gribbon, Guthrie Oat, and Aria Walters.
T-Shirt Order Form: To be announced
Upcoming Practice Battles: To be announced
Program Details:
Regional Battle Date: Middle School regional battles will be held between September 8 & September 11; High School regional battles will be held between August 11 – August 14.
Final Battle Date: Middle School: Saturday, September 16th @ 10 AM to be held at the Mid-Hudson Library System auditorium. High School will be held on Saturday, August 19th.
The participants will play in teams against the other libraries.
The participants will compete according to a round robin competition format.
Each team will play 5 rounds with a bye for one round.
There will be 20 questions per round.
Questions will be in a format so that the title and author is the answer.
Five participants from each team will be allowed to battle each round.
A buzzer system will be used to determine which team will answer the question.
Teams will gather points for each correct answer and carry those points with them to the next round.
At the end of normal game play, the team with the most wins will go on to play in the Final Battle.
Join the Team!
To join, please contact coach Maureen McGrath: teen@pawlinglibrary.org
Books
Amari and the Night Brothers by B.B. Alston
Amari Peters has never stopped believing her missing brother, Quinton,
is alive. Not even when the police told her otherwise, or when she got in
trouble for standing up to bullies who said he was gone for good. So
when she finds a ticking briefcase in his closet, containing a nomination
for a summer tryout at the Bureau of Supernatural Affairs, she certain it
holds the key to locating Quinton–if only she can wrap her head around
the idea of magicians, fairies, aliens, and other supernatural creatures
all being real.
New Kid by Jerry Craft
As Jordan Banks navigates his new private school
he finds himself caught between two worlds–not
fitting into either one. Can he learn this new
school culture and stay close to his neighborhood
friends?
The Strangers by Margaret Peterson Haddix
The Greystone kids thought they knew who they were but everything
changes when they learn of three kidnapped children–who have the
same names, birthdays, and ages! Puzzling clues lead to complex
codes, hidden rooms, and a dangerous secret that will turn their world
upside down.
Sal & Gabi Break the Universe by Carlos Hernandez

What would you do if you had the power to reach through time and space and
retrieve anything you want, including your mother, who is no longer living (in this
universe, anyway)? But just because Sal and Gabi can do some interesting things
to improve lives, does that mean they should? When things get out of hand, it's
going to require some truly out-of-the-box thinking to set things right.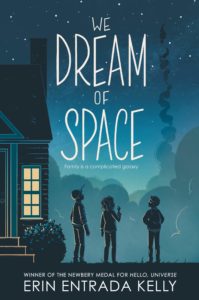 We Dream of Space by Erin Entrada Kelly

Cash, Fitch, and Bird Thomas are three siblings
n 7th grade together in Park, DE. In 1986, as
the country awaits the launch of the Space
Shuttle Challenger, they each struggle with
their own anxieties. When the fated day finally
arrives, it changes all of their lives and brings
them together in unexpected ways.
Stand Up, Yumi Chung!

One lie snowballs into a full-blown double life in
this irresistible story about an aspiring stand-up
comedian. As this case of mistaken identity
unravels, Yumi must decide to stand up and revel
the truth or risk losing her dreams and
disappointing everyone she cares about.