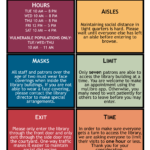 The library has adopted the following documents to guide its re-opening process:
How to Use the Library During Stage 4
Contactless Checkout Procedures
Pawling Library Re-Opening Safety Plan
The library entered Stage 3 on December 27th. We are closed to the public during Stage 3.

As this is an evolving situation, these documents are subject to revision. As applicable, updated versions will be posted to this page.