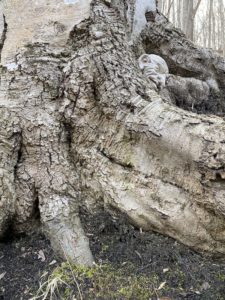 Two Sessions:
Friday, June 17: Sculpting
Friday, June 24: Painting
Time: 6:30-8:30 pm
Registration is required. Register below or contact Donald, our Adult Program Coordinator, at adult@pawlinglibrary.org.
If a tree had a face, what would it look like?
Each tree has its own personality, strength, beauty, and wisdom.
It stands tall and gives us shade and air to breathe.
When the wind blows through its leaves, we can hear it speak.
Trees have much to say and can grow to be very old: the oldest living forms of life in our world.
At this workshop we will be giving a face to a tree.
Each tree face sculpture will be photographed together with the tree that inspired you.
These photographs will be displayed on the Pawling Library's Instagram account.
If a tree had a face, what would it look like?
Look and listen, and the tree will speak to you, and you will know.
Please join us.
Parental supervision is required
Material Fee: $5.00
Age: 6 & up