Thursday, March 16

7-8 pm
Registration is required. You can register below or by contacting Donald, our Adult Program Coordinator, at adult@pawlinglibrary.org.
Author Stephen Haggerty will be giving a PowerPoint presentation based on his newly published book , Norman Rockwell's Models: In and Out of the Studio.
Stephen's book is based on extensive interviews and is unique because it goes in-depth into the models' experiences in the studio and their personal relationships with Norman.
Never-seen-before photos of the Rockwell family from Norman's home album as well as candid photos of the models will be shown during the presentation.
Stephen Haggerty grew up with the models in W. Arlington, Vermont, working, and socializing with many of the people who appear in Rockwell's most iconic paintings.
Stephen will be autographing copies of his book which will be available for sale.
Please join us!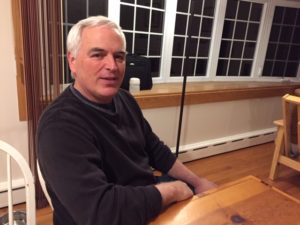 About our presenter: Steve Haggerty's new book is "Norman Rockwell's Models: In and Out of the Studio." Based on recollections and extensive interviews, it is the first that details the personal relationships between the artist and his models, as well as their experiences posing in his studio. Steve spent entire summers at his family's farmhouse in the community of West Arlington, VT, where Rockwell's studio was located. Rockwell used local residents as his models. Steve worked and socialized with many of them, including those who posed for such iconic works as Freedom of Speech, Breaking Home Ties, and Girl at the Mirror. Now a free-lance writer, Steve served as an editor at McGraw-Hill Publications. He holds a master's degree in Journalism from the University of South Carolina. His first book is called "Cows in the Fog and Other Poems and Stories.