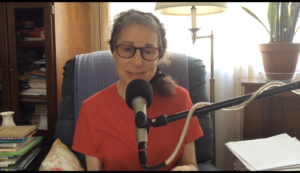 with Marian Grudko
Friday, January 22
7-8 pm
Registration is required. You can register below or by contacting Donald, our Adult Program Coordinator, at adult@pawlinglibrary.org. 
You are invited to bring one poem of your own creation to read aloud.
Then Marian will offer a "poetry prompt" and ask you to write something, on the spot. Time limit: 10 minutes. 
Perhaps your poem will pop out whole - or serve as a kernel for a longer work.It will be fascinating to hear the result of your creative spark!
All this will be enveloped within a discussion, including the questions:
Why do you write poetry? When?
Can poetry be edited?
Should it?
And ultimately: What makes a good poem?
About our presenter: Marian Grudko is the author of Lucinda Snowdrop and co-author of Claudine: A Fairy Tale for Exceptional Grownups, with T.A. Young. She is also a composer and storyteller, and her work can be seen on her new and evolving YouTube channel.