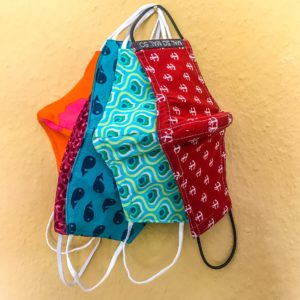 The Pawling Library is partnering with our friends at the Pawling Resource Center for The Great Give Back, a day in which libraries offer our patrons the opportunity to help people in their community. 
To assist those during the pandemic we are asking for volunteers to donate their time and talent to make protective cloth face masks. There is not a set amount of masks we ask you to make; a few or many are equally welcomed. 
Normally, our programs are conducted at the library but this is not possible until a vaccine for Covid-19 is made available. We so very much appreciate your generosity and compassion and thank you for safely working from home. Donated masks will be distributed by the Pawling Resource Center. 
Finished cloth masks can be inserted into ziplock bags and either placed in our book drop bin or delivered in person at the circulation desk up until Saturday, October 3.  Please include your name and contact information in the bag, along with the masks.
They will be donated to the Pawling Resource Center on Saturday, October 10. 
For those interested making cloth masks, please contact Donald at adult@pawlinglibrary.org. 
NOTE: If you would prefer to purchase face masks to donate, you may do this as well.  
Thank you so very much.
The Pawling Resource Center is located at 126 East Main Street, in the carriage house of the John Kane House. Phone: 845-855-3459.
See the link below for directions on how to sew a face mask. 
https://www.nytimes.com/article/how-to-make-face-mask-coronavirus.html