Horsetalker
October 4 @ 6:30 pm

-

7:30 pm

Free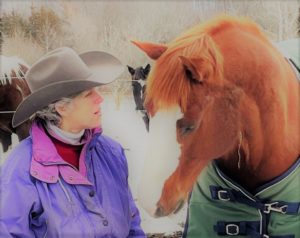 Presented by Stephanie Rogers
Wednesday, October 4
6:30-7:30 pm
Registration is required. You can register on the Pawling Library's online calendar or contact Donald, our Adult Program Coordinator, at adult@pawlinglibrary.org. You can also register by calling our library at 845-855-3444. Thank you.
Stephanie Rogers, founder of Horsetalker, LLC, from her personal experience with horses discovered something remarkable. Horses can heal the emotional wounds of humans. In fact, they are in active service in the treatment of PTSD, depression, in prison populations, and more. Because of who they are and how they see the world – horses can make us better people, if we let them.
During this interactive presentation Stephanie Rogers will be discussing Horsetalker, LLC, her company which is dedicated to improving communication between humans and horses. She will be sharing her experience, enlightening us on how these beautiful animals can improve our lives.
Please join us.
About our presenter: Stephanie Rogers is a native New Yorker and a lifelong horse lover. She has been a mezzo-soprano; an actor; a dancer; a mime. She has worked in film and radio, and was a regular reader for Recording for the Blind. An introduction to quantum physics generated an interest in Buddhism. But she always loved horses. She has ridden all over the world, Ireland, France, Morocco and for a good part of about 24 summers, Wyoming, where she had a chance to see what she still believes is the gold standard of horse/human cooperation as she watched cowboys and their horses work together.
A 20-year stint in finance enabled her to quit her day job in 2006 and pursue her dream full time. A professional training program and the ideas of Tom Dorrance and his philosophical descendants dramatically changed her thinking about horses and what a relationship with them can be. She attends clinics given by Buck Branaman, Chris Cox, Dan James and others, and is enrolled with Warwick Schiller. She founded Horsetalker, LLC, dedicated to improving communication between humans and horses.
She offers clinics and individual sessions fostering a relationship of mutual trust and respect with horses. Stephanie Rogers is the author of The Horse I Belong To: How a Misused and Almost Forgotten Grade Mare Showed Me the Way, and has been published in Trail Rider Magazine, Equus, Cayuse Communications, and Pawling Living. She continues on the path, and the horses continue to show the way.
Related Events