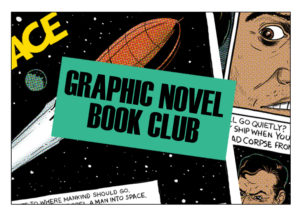 Tuesday, December 10
7:00-8:00 pm
The book club will be discussing On a Sunbeam by Tillie Walden.
The Graphic Novel Book Club is an adult book club that meets monthly to discuss comics and graphic novels. We will select from a wide variety of titles - indie and foreign comics to classic superhero storylines. Whether you are just getting into comics or a life-long reader, you'll find good conversation and something new to read.
Registration is required. Call the Pawling Library at 845-855-3444 to register or send an email to Donald at adult@pawlinglibrary.org.