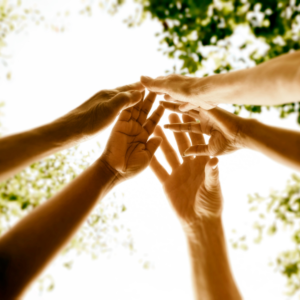 Monday, February 7
7-8 pm
Registration is required. You can register below or by contacting Donald, our Adult Program Coordinator, at adult@pawlinglibrary.org.
Each month, in a respectful and open environment, we'll explore a new topic led by a different community leader.
At the start of the program, we'll be watching a 16-minute TED TALKS video, entitled How Changing Your Story Can Change Your Life, with author Lori Gottlieb.
Following the viewing, we'll open up a group discussion led by Tom Governale.
Our wellness as individuals and as a community depends on continued sharing, support and conversation in times of celebration as well as in times of conflict.
Come Together and join us in fostering deeper conversations, listening to disparate experiences and points of view in the realm of challenging context such as racism, sexism, bipartisanship, whiteness and social justice.
We understand that these conversations could be difficult to have, and believe that by coming together to find the willingness to listen and learn, we can aspire to create a stronger Pawling, where ALL community members feel safe, welcome and represented.
This program is being provided through a partnership with the Pawling Library and Pawling Yoga & Wellness. https://pawlingyogawellness.org
About our presenter:
My name is Tom Governale, and I have a Ph.D. in Making Mistakes and Overcoming Adversity.
You might know me as Tom, Tommy, or Gov. I have lived in Pawling most of my life and consider it one of the most beautiful places on earth. A friend to many, a mentor to few, a father to two. An advisor to corporate clients by day, a creative type by night. Health nut and self-development geek all day, every day. On the ready to give an ear, a shoulder to cry on, or a nudge in the right direction. Lover of all that's good, all that's true, all that's beautiful.
I love to write and perform music in my free time, practice yoga, do CrossFit, hike and run local trails, and catch lots of live music. When I'm not planning my next big outdoor adventure or cracking the code on how to make a plant-based meal that doesn't end up in the garbage, I'm chilling with a great book, writing a new tune, or spending time with the people I love.
I have difficulty highlighting my achievements, whether in life, business, or music. A more accurate account of my accomplishments comes from the adversity I encountered and how it forced me to evolve.
My selected list of achievements:
I learned how to get comfortable being uncomfortable.
I learned how to drop my expectations, break from my mental maps, and let go of what I thought should be happening at any given moment.
I learned how to let go of everything I knew to make room for what I didn't know.
I learned how to trust in the process, that it has my back, and it won't let me down.
I learned how to make lots of mistakes early and often, to fail fast, and when I fall, fall forward.
I learned how to embrace my fear of failure and use it to perfect my craft.
Today I pursue what I believe to be the highest good I can conceive for my life. It strikes me as a noble and worthwhile way to spend my time. I'm always learning, always making mistakes, in the face of adversity. I hope to look back one day and be able to say I justified the privilege of my existence.
Should we cross paths, I welcome a real conversation, maybe one that changes our lives for the better. Thank you for taking the time to read about my life.
NOTE: TED TALK is the owner of How Changing Your Story Can Change Your Life
Speaker: author Lori Gottlieb
This video was published in September 2019 by TED TALKS
To watch this video and or to discover more about TED TALKS, please visit https://www.ted.com