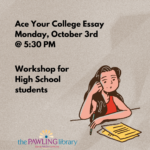 10/3/2022 You'll ace your college essay with the tips and strategies shared by instructor Kasey Stecher. During this in-person workshop, you'll have the opportunity to begin writing your college essay using the methods she suggests. Participants can bring an essay that is already started or they are welcome to begin during the workshop.
This workshop is for high school students who are preparing their college applications. Registration is required.
There will be a follow-up session for those who are interested.