Now Open
Registration for July-August programming is now available online and in-person. Join us for our summer kick-off magic show for families and youth of all ages at Lakeside Park on 6/20 at 3:30 PM. In-person and kit programs will resume in July.  
Click here to view the program guide
& register for programs online
To register: Click on the program title or registration link under each event description to register via Eventbrite. If you have any difficulties registering online, please contact Children's Program Coordinator, Neena McBaer, at 845-855-3444 or children@pawlinglibrary.org. Our staff is happy to help if you stop by in person as well.
Lola the Library Owl's Picks:
Lola and our staff are so looking forward to…
Oceans of Possibilities with Magic Jim
(Grades K-8 and families)
Monday, 6/20, 3:30 -4:15 PM
In partnership with Pawling Recreation. Join as Magician Jim Vagias wows families with his tricks, humor, and puppeteering. This interactive program is paid for in part by Dutchess County and will be held at Lakeside Park, 2 Lakeside Dr. Pawling, NY 12564. No registration required; drop ins welcome.
Meet a Mermaid Storytime (All ages and a caregiver)
Saturday, 7/16, 1:30 – 2:30 PM
PROGRAM HELD OFFSITE: Lakeside Park, 2 Lakeside Dr. Pawling, NY 12564
Stop by the Lakeside beach for our special mermaid meeting. Our mermaid friends will read, sing, and play with us, as well as provide opportunities for meet-and-greets. This program is part of our Literacy Heroes series and sponsored in part by Dutchess County and Pawling Recreation.
No registration is required, though we'll send you helpful updates and reminders if you register in advance!
---
Story Time Bites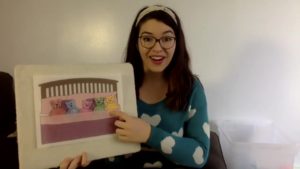 Story Time Bites: We've created some bite size story time moments featuring Ms. Neena for anyone missing story times and programs for children five and under. Each video features one song, rhyme, or story and can be watched anytime. Check them out here.
We also suggest…
---
For more online resources for children and families, including eBooks, audiobooks, downloadable movies, educational games, and more, check out:
__________________________________________________________________________________________________________________
Talk to us! 
Children's programming and learning opportunities are an essential part of our library mission, and so, if you at any time are in need of recommendations for easy, affordable, at-home learning experiences for children ages 0-11, please reach out to our Children's Program Coordinator, Neena McBaer, at any time. While we are closed, you can call or text Ms. Neena at 845-350-2771 or email us children@pawlinglibrary.org.