Blast off to learning with our Summer Programs!
This summer, we're excited to present "A Universe of Stories," two months of programs designed to help children develop important social and school skills while having fun! We're introducing some fun new choices, including a weekly slime club, a Teen/Buddy Book Club, and community service for all ages.
Summer program registration will run June 10-24, and six weeks of programs kicks off July 8th! For more information on what programs will be available, check out pages 4-5 of our Annual Summer Newsletter. Check back here starting June 10 to register. Questions? Contact Children's Programming Coordinator, Neena McBaer, at children@pawlinglibrary.org
---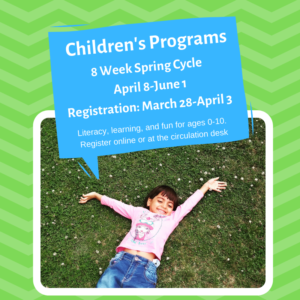 Spring is here! Spring programs end June 1st. Programs this session will run eight weeks, from April 8 – June 1. Lottery registration is now open! We offer educational and fun programs for children 0-10 years old. Differentiation is important to us. That's why we offer programs for all stages of development–small groups for specific ages. From early literacy story time for toddlers, to slime workshops and STEAM clubs for elementary kids, there's something for all ages at the Pawling Library.
Want to sign up? Due to space restraints, registration is required for most programming. Fill out our registration form, either in person or online below, starting March 28th. Register between March 28-April 3, during the lottery for the best chance at a spot in our programs. Rolling registration as space is available to follow.
For more detailed information on what programs are available this session, view our Spring 2019 Programs Guide
---
Registration for Spring 2019 is by lottery, so a spot in a class is not guaranteed. In planning what programs to enroll in, please take note of age and grade restrictions. If you wish to register a child for a program that they do not qualify for (in terms of age or grade), please contact Children's Programming Coordinator, Neena McBaer directly.
There are several ways to register for programs, when it is required. You can:
Email children@pawlinglibrary.org a copy of the registration form or your program requests. The registration form can be found here.
Stop by the library and register in person
Interested in receiving updates about new and exciting programs all year long? Sign up for our children's programs email list.
Questions or concerns about a program or our availability?  Please contact our Children's Programming Coordinator, Neena McBaer. Call the library at 845-855-3444, email children@pawlinglibrary.org, or stop by the front desk to inquire. We're happy to help!