Welcome! Are you looking for…
Live June Programs                          Anytime Programs
The Pawling Library has moved online! Our online collection is available for all of your media related needs, and we are now offering live and at-your-own-pace online programming as frequently as we are able.
---
Register for June Live Programs Now!
Live opportunities: music and movement, story hours, & after school activities
Check out our live opportunities in our June 2020 Live Programming Guide.
Register online at this link or email children@pawlinglibrary.org for assistance. Click here for information on system requirements.
---
Caregiver Programming: Free General Parent Support Group*
• For Parents of children 0-5 years old • Thursdays, 1:00 pm, June 4 – July 9 over Zoom
Registration Required – Click here to sign up online or email children@pawlinglibrary.org for assistance
Our library has partnered with experienced therapist and support group leader, Stephanie Sandler, PH D, LMHC of Becoming Mental Health Counseling, and other area libraries to provide caregivers a supportive space for themselves. Join a community of parents dealing with the unexpected hurdles of parenting young children during the Coronavirus epidemic together. During a time of increased isolation, finding ways to connect with other parents and families with common experiences can be refreshing and beneficial. This program is participant driven, and it is recommended for optimal support that participants attend as regularly as they are able. However, interested caregivers are welcome to attend as few or as many as they can. All participants must adhere to group guidelines and norms to maintain a comfortable, welcoming, and safe atmosphere for all.
*This support group is not considered a therapeutic support group. Though led by a mental health professional with experience in supporting parents and families, this support group does not take the place of personalized mental l health treatment, and should not be treated as such.
System Requirements for Live Programming
All live programming will be held over Zoom, so an internet connected device is required. Caregivers must be present while setting up the connection and remain in the same room as participating children under 5 years during programming. We encourage caregiver participation in all our live programs, as our staff is not able to monitor children's internet activity while live. Registration is required and connection details will be provided privately after registration to help maintain class security.
New to Zoom? You will need to download the app to your device in advance of your first live program. Visit https://zoom.us/download to find the right connection for your device. Contact us children@pawlinglibrary.org or 845-350-2771 for assistance.
---
Any Time Programs
In addition to our live programming opportunities, we're still offering passive programs that you and your family can do at any time. Interested? Click on the options in the table below or keep scrolling to find out more.
Thank you to everyone who participated in our Read-A-Thon. Our community continued to read so much, even while access to novel print materials was limited, and that should be celebrated!
Our Read-A-Thon Participants Read:
37,663 minutes or 627.7 hours! 
Coming soon—-Imagine Our Story Summer Reading Challenge
We'll be hosting a different kind of reading challenge this summer–one that gives participants more control than ever before. Each week, we'll tell a different story, featuring our staff, where YOU decide the ending. Will we dye Ms. Neena's hair  purple, or blue? What awesome illustration will Donald create? Log reading time or complete simple activity challenges to earn votes and help decide what should happen! Each week, one lucky winner will also receive a gift certificate to a local business, thanks to a donor.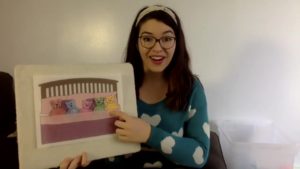 Story Time Bites: We've created some bite size story time moments featuring Ms. Neena for anyone missing story times and programs for children five and under. Each video features one song, rhyme, or story and can be watched anytime. Check them out here.
We're also hosting live preschool and toddler story times via Zoom in May. Find out more here. 
We also suggest…
Every Friday between now and when we reopen, we will be posting a family friendly trivia game here for you to play with your family and friends. Play online anytime from your computer, phone, or tablet. We encourage grown ups to be involved–use this as a chance to problem solve and have fun with your families. Top scorers from past weeks will be posted here! CLICK HERE TO ACCESS PAST QUIZZES
Week Six: Kids Sports Quiz We're featuring questions on all your favorites, like baseball and soccer, and some more unusual sports too! Click on this link to play: https://kahoot.it/challenge/07671347?challenge-id=201c7240-b4c4-4c9a-9257-b6216aee1159_1589495396648 or type code 09816097 into the Kahoot app.  "Delilah" had the highest score on this week's quiz! Awesome work by users "Timmy" and "Unicorns!" too!
Week Seven: Food Around the World How much do you know about what people around the world eat? This quiz may be a greater challenge than previous quizzes!  Click on this link to play: https://kahoot.it/challenge/03022143?challenge-id=201c7240-b4c4-4c9a-9257-b6216aee1159_1590090458017 or type code 03022143 into the Kahoot app. "FoxNova" and "Funny Glider" had the highest scores this week! Nice job!
Week Eight: Rebus Puzzles Rebus puzzles use pictures to describe a word or phrase. Can you solve them? Click on this link to play: https://kahoot.it/challenge/03264590?challenge-id=201c7240-b4c4-4c9a-9257-b6216aee1159_1590721232451 or type code 03264590 into the Kahoot app.
---
We're SO EXCITED! Kids programs will be in session this summer! Both virtual and anytime at-home programs, including free activities we'll distribute to you, will be available starting in July. Ms. Neena, Ms. Carla, and Ms. Tara are returning in full swing, ready to provide options for all kinds of families, regardless of your internet capabilities. Here's the details:
Summer Registration Lottery: June 12-28

More details on programs will release June 12
Rolling registration as space is available to follow
Summer Programs Run: July 6 – August 15
Plus, we've reimagined our Summer Reading Trackers for the virtual world! This summer, we're putting YOU in control! Each week, we'll tell a different story, featuring our staff, where participants decide the ending. Will we dye Ms. Neena's hair purple or blue? What strange food will you pick for the staff to eat for lunch? We'll record whatever ending wins the most votes and make it reality! Log reading time or complete simple activity challenges to earn votes and help decide what should happen! Each week one lucky participant will also receive a gift card to a local business, thanks to a donor.
More details to come starting June 12…
---
For more online resources for children and families, including eBooks, audiobooks, downloadable movies, educational games, and more, check out:
__________________________________________________________________________________________________________________
Talk to us! 
Children's programming and learning opportunities are an essential part of our library mission, and so, if you at any time are in need of recommendations for easy, affordable, at-home learning experiences for children ages 0-10, please reach out to our Children's Program Coordinator, Neena McBaer, at any time. While we are closed, you can call or text Ms. Neena at 845-350-2771 or email us children@pawlinglibrary.org.